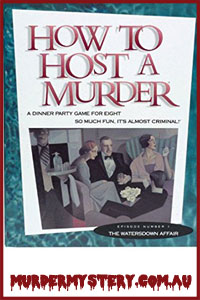 The Watersdown Affair: How to Host a Murder Game (Episode 1)
It's January 1936 at an English country mansion. Sir Roger Watersdown, the wealthy owner of Watersdown Beverages, Ltd., has invited several friends to a weekend party in the countryside at his mansion. But soon, a murder is discovered, and the friends must determine who among them committed the crime. To solve this mystery, one must dig deeper into the setting and relationships between the host and guests. Welcome to Watersdown Mansion, where suspense and intrigue await you. All you need is a sense of humor and a light-hearted approach to the darker elements of the story. How To Host A Murder is so much fun, it's almost criminal!
You are invited to Watersdown Mansion, the home of Sir Roger Watersdown. Assume the role of one of these eight worldly characters as you and your dinner guests indulge in hours of suspense and intrigue. All you need is a sense of humor and a willingness to take a lighthearted attitude toward blackmail, theft, deceit, and murder. The game is designed for eight adult players. Solve the mystery, discover the murderer, and prove your innocence. How To Host A Murder is so much fun, it's almost criminal.
Meet the Characters
Roger S.B Astrid – Roger is Sir Roger's long-lost illegitimate son who was kidnapped in infancy by his nurse. Despite planning to become an architect, he has taken advantage of his stay in Europe to pursue his favorite hobby, mountain climbing. Sir Roger has recently discovered that Roger is his son and has welcomed him into Watersdown Mansion. To avoid confusion, he is referred to as 'Rog'.
Miranda T. Shetes – A beautiful and talented young American actress, acclaimed for her maturing talent and classic profile. She recently starred as Miss Hardcastle in She Bends Over to Conquer by Oliver Goldmint. This breakthrough role brought her into the public eye and launched her career in serious drama. Her close friends call her 'Randy'.
Prosper Alvin Bates, Esquire – Sir Roger's lawyer, personal advisor, and golfing companion. He is not only a talented golfer but also handles Sir Roger's business affairs as his solicitor. He serves as a director on the board of Watersdown Beverages, Ltd. and frequently stays at Watersdown Mansion. Friends affectionately refer to him as 'Pro'.
Eiaguielle R. Aminmund – Sir Roger's confidential secretary and a highly talented and motivated individual. Since the death of Lady Watersdown four years ago, she has often acted as the hostess at Watersdown Mansion's weekend parties. She oversees virtually all operations at the mansion. Due to the length of her name, she is referred to as 'E' by her friends.
Dr. Malcolm K.T Praktiss – A physician located on Harlet Street, Dr. Praktiss is not only quite wealthy but also happens to be Sir Roger's personal physician. He is a respected member of the medical community and shares a passion for bridge with Sir Roger, as they are both members of the exclusive Gribbley card club in London. He is well-liked and known as 'Mal' to his friends.
Dame Allison Bigh – A renowned writer of English mystery novels, Dame Bigh has enjoyed great popularity and success since her bestseller, The Knife Slices Coldly, was published two years ago. Her writing has been praised for its lifelike portrayal of the criminal mind. Currently a guest at Watersdown Mansion, she is there to gather material and inspiration for her next book. Close friends affectionately call her 'Ali'.
Donald J. Brooks – A city banker and Sir Roger's nephew, Mr. Brooks has achieved significant success at the young age of 35. He is renowned for his financial acumen and is featured frequently in Banker's Fashion News. His international connections have proven invaluable for his flourishing career. Within the family, he is known as 'Donny'.
Florence Wing Brooks – The wife of Donald J. Brooks and heiress to the fortune of The Earl and Lady Wing. Known for her incredible beauty, Florence was a former fashion model and gained fame as the "Far Eastern Eye Shadow" girl. Since her marriage to Mr. Brooks, she has traveled extensively with him. Florence exudes charm and vivaciousness, and her parents call her 'Flo'.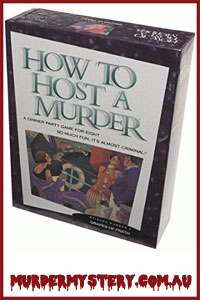 Grapes of Frath: How to Host a Murder Game (Episode 2)
It's June 1925 aboard a yacht sailing in the Mediterranean. An internationally famous champagne distributor and owner of a multi-national corporation has invited several close "friends" for a cruise on his luxury yacht. In a secluded bay, murder is discovered, and it is up to the surviving guests to unravel the crime.
The Last Train From Paris: How to Host a Murder Game (Episode 3)
It's June 1940 aboard a train departing from Paris. As German troops approach the city, the passengers on this government train headed for the safety of southern France stumble upon a murder. In a tense and dramatic setting, the elegant refugees must determine who among them is the killer. Will the circumstances of their flight and their relationships provide the key to solving the mystery? Hold on tight as you and your guests embark on a journey filled with suspense and intrigue.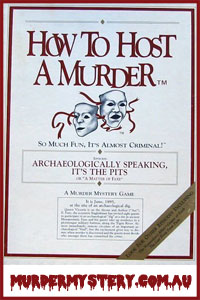 Archaeologically Speaking, it's The Pits (AKA Matter of Faxe): How to Host a Murder Game (Episode 4)
It's June 1895, and Arthur "Art" E. Faxe, the eccentric Englishman, has invited eight guests to participate in an archaeological "dig" in Mesopotamia. Rumors of an important discovery quickly circulate, but excitement turns to dismay when murder is discovered. Unearth the truth as you assume the role of one of the fascinating Roman characters listed and solve this ancient mystery.
To find more thrilling murder mystery games and host your own party, visit Thumbuddy To Love.