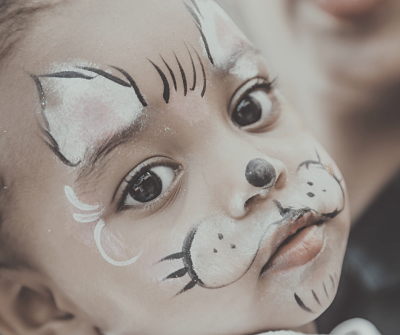 Whether you're looking for a rainy day activity, something to make a party memorable, or some ideas for your next school fundraising event, face painting is the answer. You can't quite beat the silent, anticipatory face paint queue of excited little people waiting to be transformed into a character from their imagination, or that moment when you turn the mirror to them and there's a little rainbow face of awe looking back at themselves.
And don't panic that face painting is only for fine artists. With good-quality face paints (we love Snazaroo – as do parents, bathtubs, washing machines and clothing), a few brushes and sponges, you too can create face paints to wow, inspire, and amuse.
Our top tip for amateur face-painters: remember you're going for overall effect, not detail. No one is looking close up, and the harshest critic is yourself. Children are far more prepared to look beyond any wobbly lines and get lost in their transformation. So be confident, have fun, and take your inspiration from these popular face painting ideas for kids.

Roughly speaking, these designs get harder as you go on, so if you're new to face-painting then start at the beginning before attempting more complex ideas.
1. Face Painting Stencils – For Boys
It doesn't get much easier for face-painting novices than face painting stencils. Simply load up your sponge with paint and get dabbing. For classic favourites, such as racing cars, knights and rockets, the Snazaroo stencil set for boys is fantastic for boys and girls alike.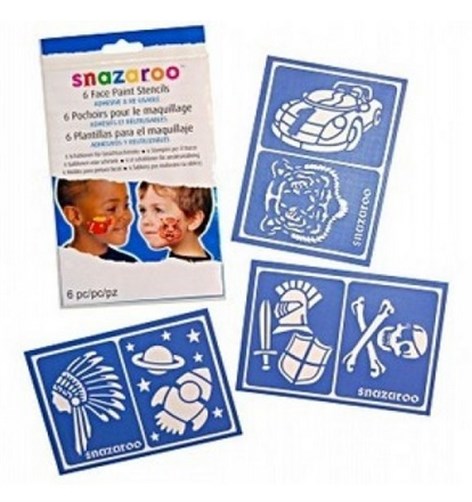 2. Face Painting Stencils – For Girls
If your child is after more of a princess make-over, or designs such as mermaids or crowns, then the Fantasy face paint stencil set from Snazaroo is just as simple.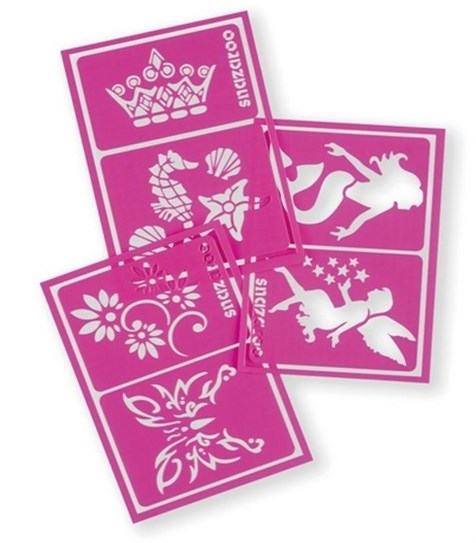 3. Butterfly Face Painting
Super popular, you can customise butterfly face painting to the child's favourite colours. Relatively simple, sponge on the coloured wings roughly first, then make the design impressive with black butterfly outlines. Don't forget a sprinkle of glitter!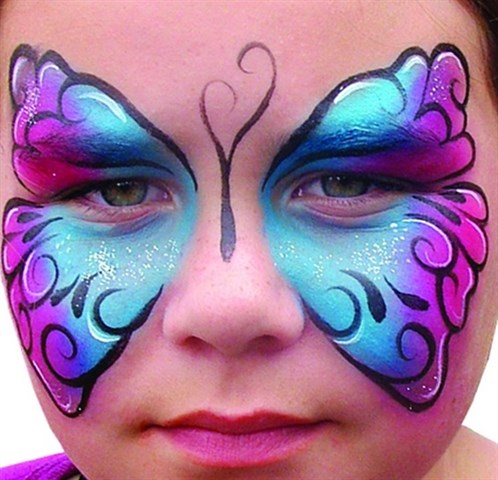 4. Spiderman Face Painting
Let little super heroes make a huge impact with an easy Spiderman facepaint design. Simple yet effective. Top tip: do the white eyes first.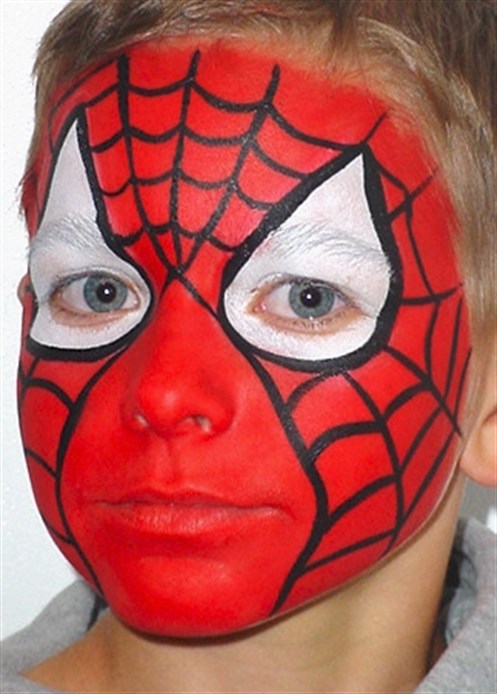 5. Tiger Face Painting
For some reason, only known to the under-8's, the Tiger is an incredibly popular face-painting choice at fairs, parties, and events. Some tiger face-painting designs can leave the painter quaking in their boots. This simple tiger face painting design can be achieved by the most amateur face painter.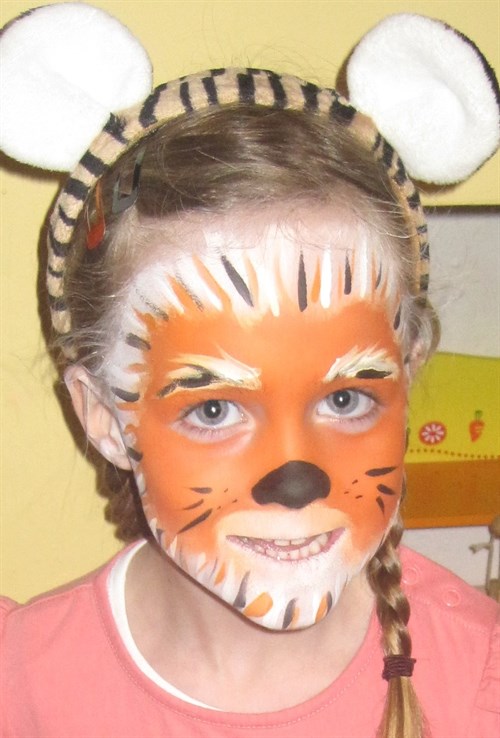 6. Frozen & Snowflakes Face Painting
If there are under 7's on the face-painting chair then make sure you've stocked plenty of blue and white face paint, along with lots of glitter! This one will be a popular demand, but we make delivering easy-peasy.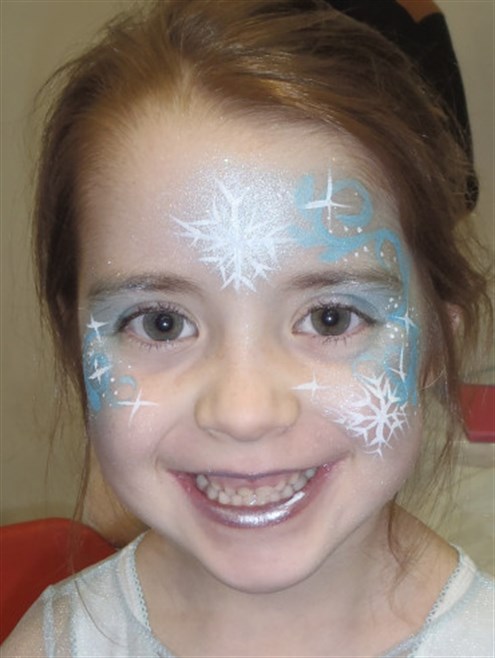 7. Camo Soldier Face Painting
Look like a pro whilst doing the simplest face paint ever. Transform ready recruits in to combat soldiers with this Camo Soldier face paint technique. You'll need 3 sponges and some good muddy sludgy colours. You can't go wrong with this one.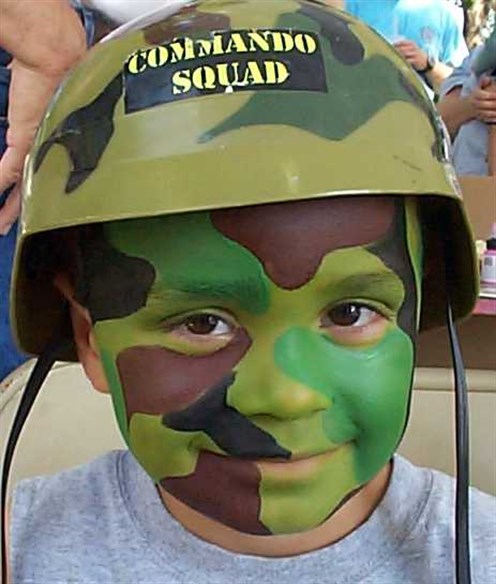 8. Flowers Face Painting
Simple yet stunning, all you need for the best floral designs is a good quality face painting brush. Use the shape of the brush, side on, to create the petals. Stunning designs in moments: flowers are particularly good for the littlest human-canvasses who have problems sitting still.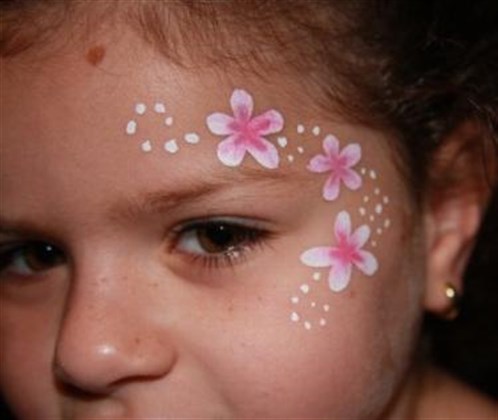 9. Zombie Face Painting
Whether it's Halloween, or an event where you're trying to entice some older boys to join in the face-painting fun, then the Zombie look is a good one. Full of gore and horror, yet straightforward to replicate, you'll unleash their imaginations yet.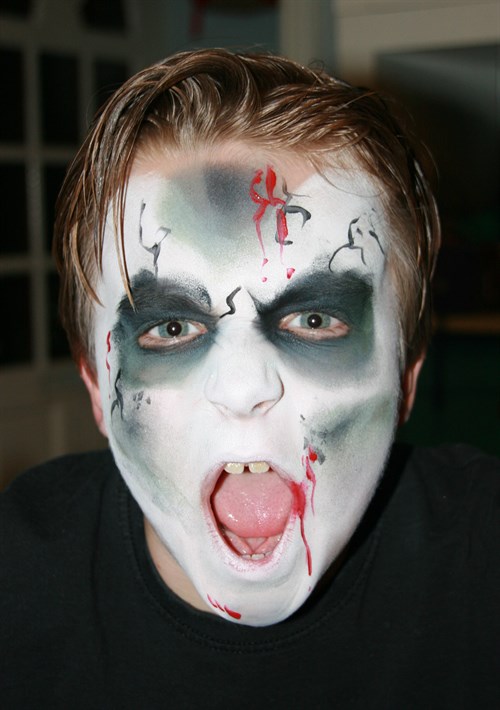 10. Pirates Ahoy Face Painting
Argh me hearties, unleash the face painting treasure chest with this pirate design. Don't have a bandana? Just paint one! It'll be a pirate's life for everyone with a good yo ho ho.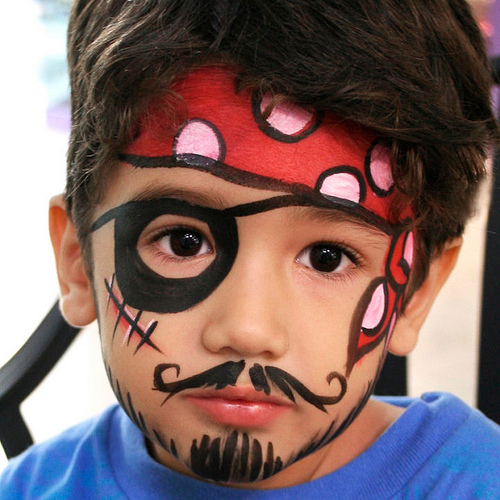 11. Cat Face Painting
Some cat face paint designs leave you a little more ruffled than the average feline. This design is deceptively simple, yet will make an impact on your little cat lover.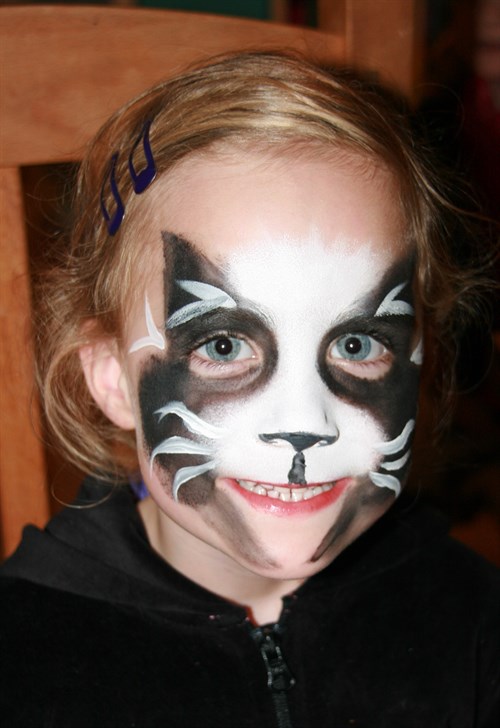 12. Puppy Face Painting
If they're not requesting kittens, then you can be sure you'll be asked for puppies. A tricky design to get looking good without the tongue going wrong, but leave that till last, or leaveit out altogether, and you'll have a very loyal dog in the making.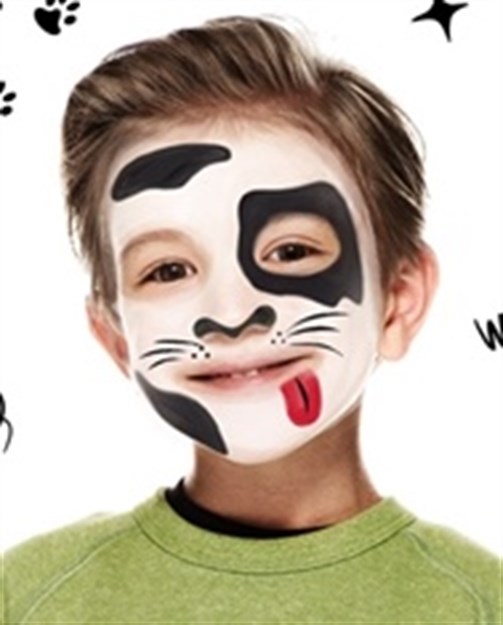 13. Dinosaur Face Painting
Roar for the dinosaur! To make a Jurassic impression on the keenest palaeontologists, get crafty with a face paint dinosaur sporting impressive scales and horns.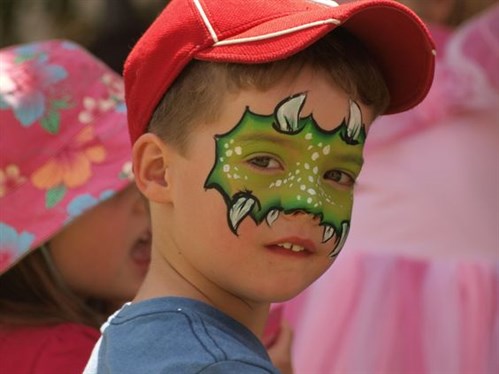 14. Hello Kitty Face Painting
Loved for her cutesy looks and hair ribbon, Hello Kitty is a popular choice for face painting and an easy one to replicate. Don't worry too much about getting the white perfect – remember, from a distance it won't matter.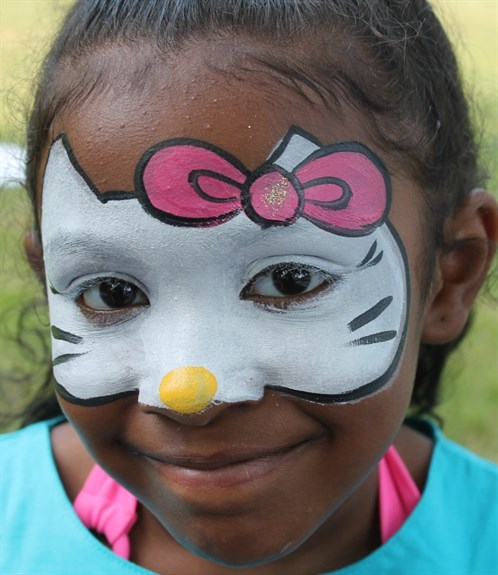 15. Cheeky Designs Face Painting
If you're not feeling too confident about including the whole face, a solution to your problem can be to just do a design on the cheek area. This way you can ping up a picture of the chosen motif or character on your phone, and not worry about how to integrate it across a brow, two eyes and a nose.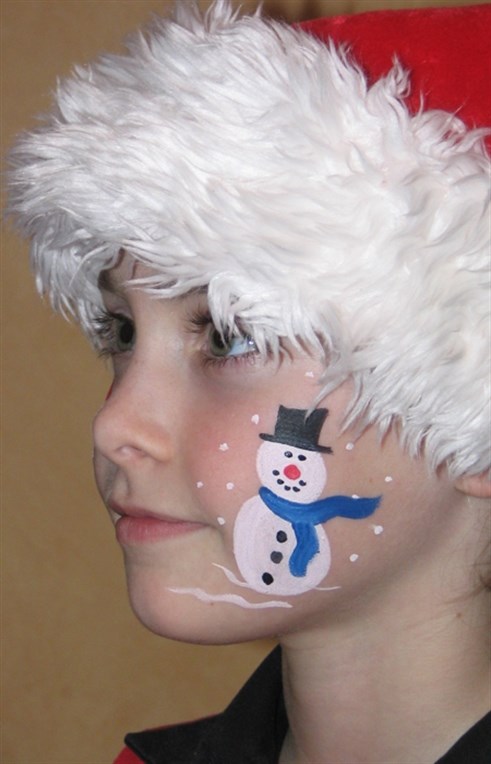 16. Ninja Turtles Face Painting
Whether their favourite is Leonado or Donatello, whip them up in to their favourite Ninja turtle in no time. Just make sure you have plenty of green face paint to hand!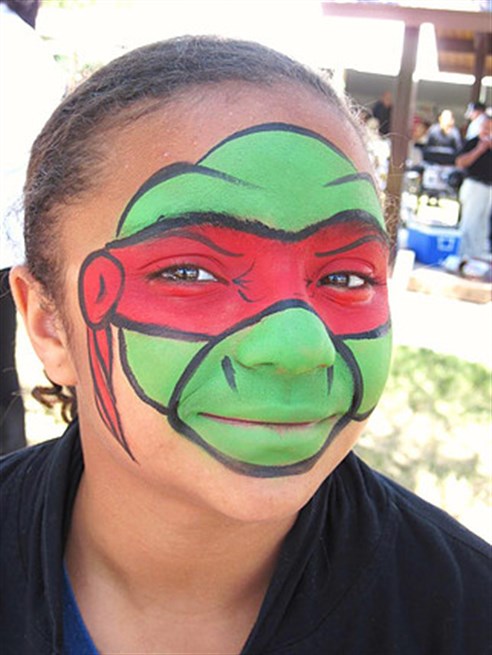 17. Sunset Paradise Face Painting
If you have a dolphin lover, yet the thought of a dolphin design terrifies you, or you simply want to celebrate the summer in style, this incredibly effective design is easy to pull off without much skill. Start at the top of the face and sponge on the sunset and sea colours downwards before finishing off with the black detail.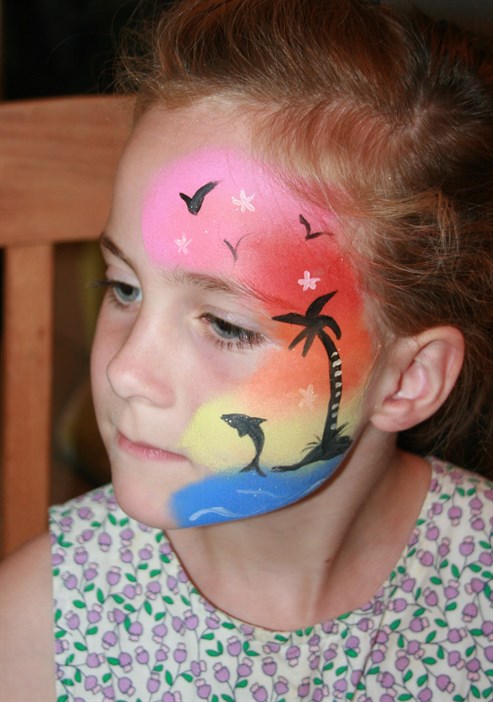 18. Princess Face Painting
The simplest way to transform any budding princess is to focus on the crown and sparkles. As well as face paint glitter, face paint gems make these designs have the wow factor.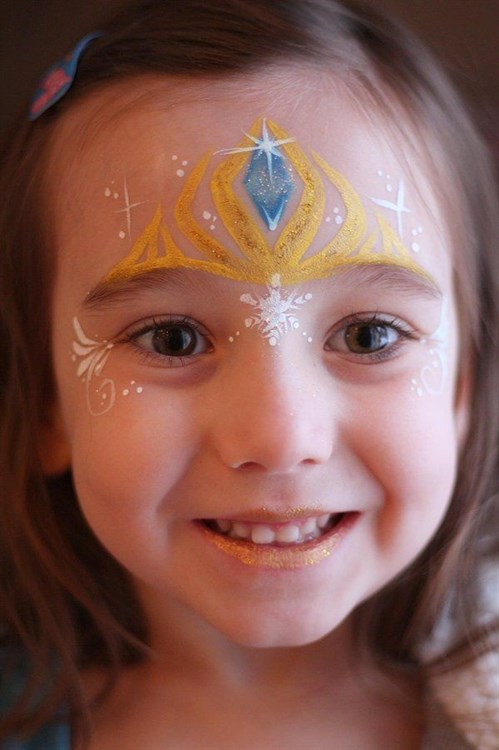 19. Fairy Face Painting
Sprinkle some fairy dust, and give your little ones wings to fly with a beautiful fairy face paint design.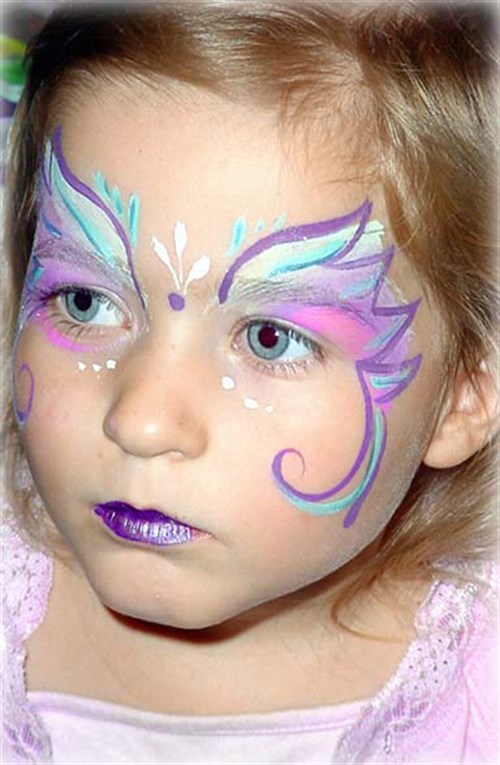 20. Rainbow Face Painting
Here comes the sun, a wonderful year round design that will instantly create happiness and smiles.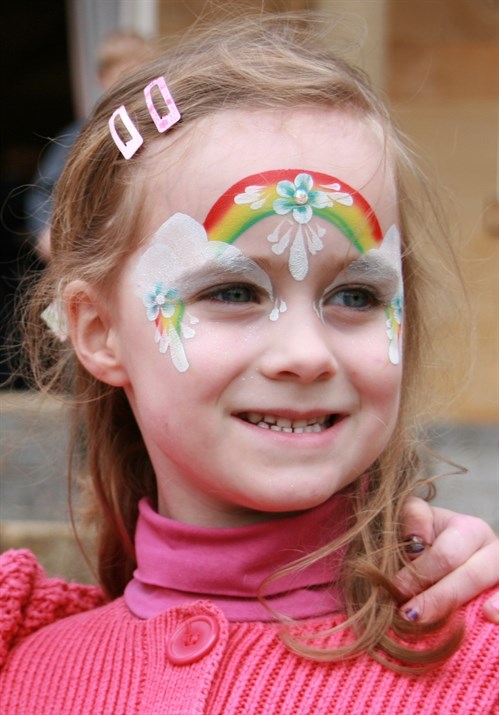 21. Minion Face Painting
Your efforts won't be Despicable, but you will be in favour once you've mastered how to do a Minion face paint design.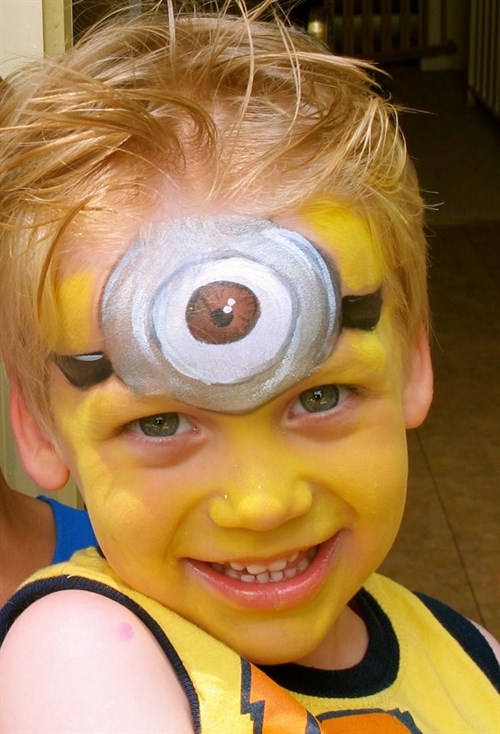 22. Halloween Spiders Face Painting
Impressively easy, with a little care over this Halloween spider face paint design. Find out the child's favourite colour and use this as the base before painting on the web and spiders. It's the white touches at the end that really bring it to life.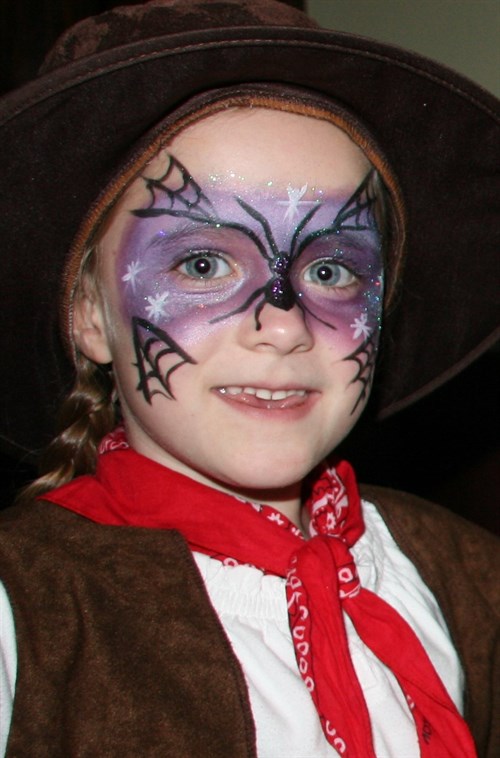 23. Football Face Painting
Get those fidgety feet to stay still for a few moments whilst you fulfil their footie passion with this football face painting.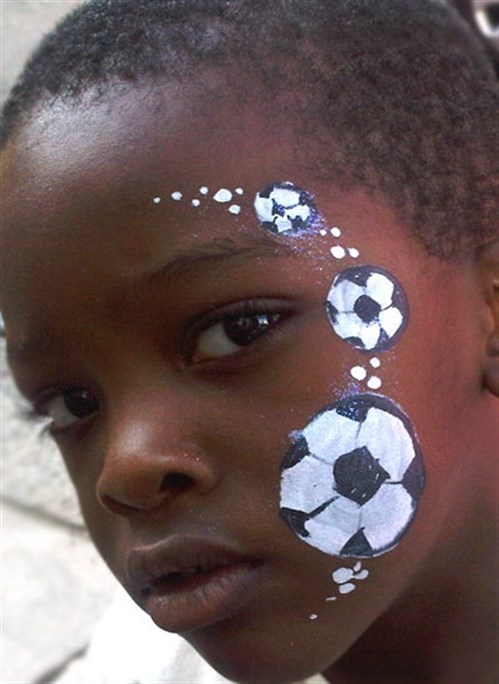 24. Clown Face Painting
Girls and Boys alike will bring a smile to everyone's faces with this fabulous and fun clown design. Make sure the white base is sponged on and dry before painting the coloured elements.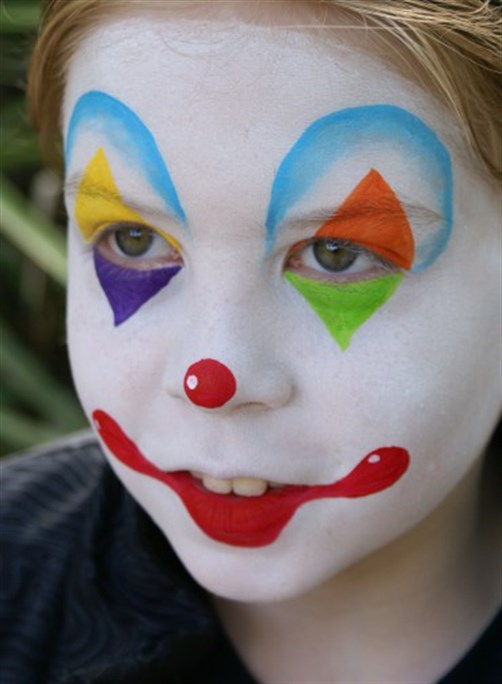 25. Batman Face Painting
With Batman as popular as ever, this design will ensure you'll be the hero of Gotham City. Take our advice and paint the yellow outline first, using the nose as a central point for the bat tail. Then infill the black using a paintbrush.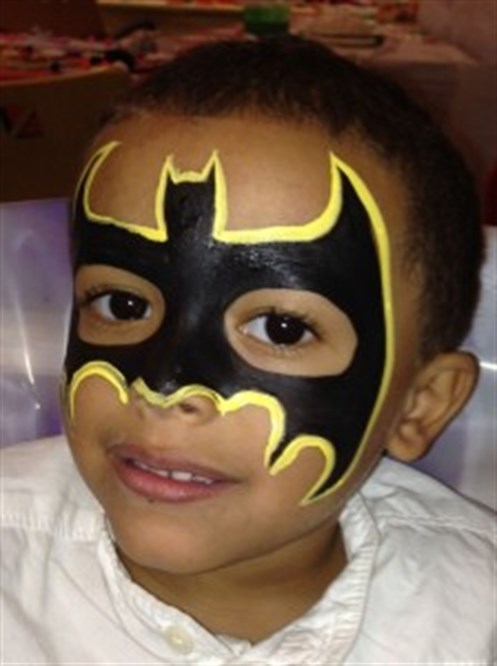 26. Snake Face Painting
Some kids can be tough customers and there'll be no slithering away from giving them their favourite character. Another design that lends itself to colour customisation, let their imagination glide as you create this snake face paint.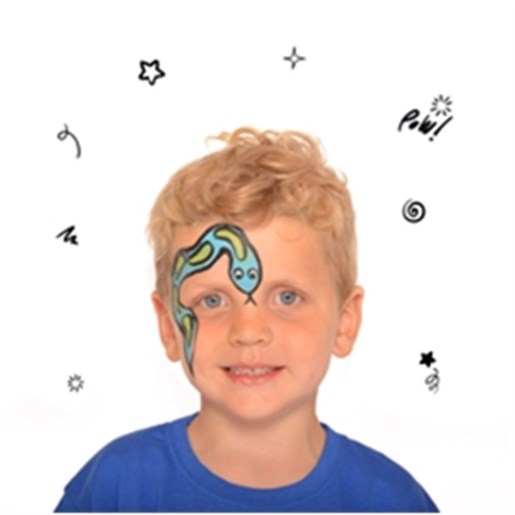 27. Shark Face Painting
Kids are naturally playful, and as such they just love face paint designs that are interactive and let their imagination run wild. Shark face painting, which uses the child's own mouth to enhance the effect, will get a big thumbs-up.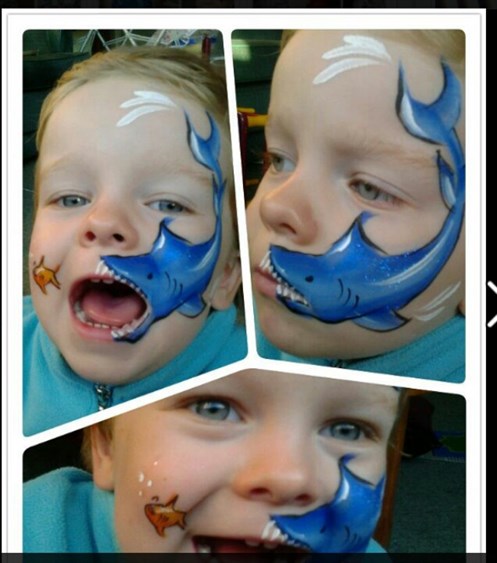 28. Hearts Face Painting
Sometimes your little customers need a little inspiration when it comes to choosing a face painting design. Give them the idea of a beautiful heart-based design and their heart will beat for you.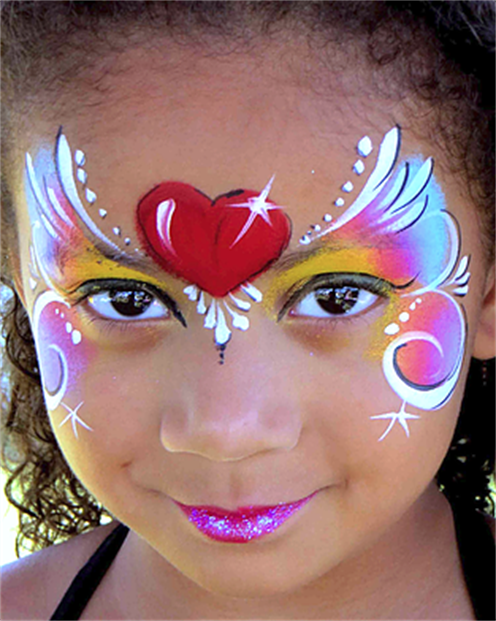 29. Just Girlie Face Painting
Older girls sometimes just love the transformation from the mundane to the spectacular, and with a steady hand you can create a design to wow away the pre-teen angst. Work from the centre out and think symmetry!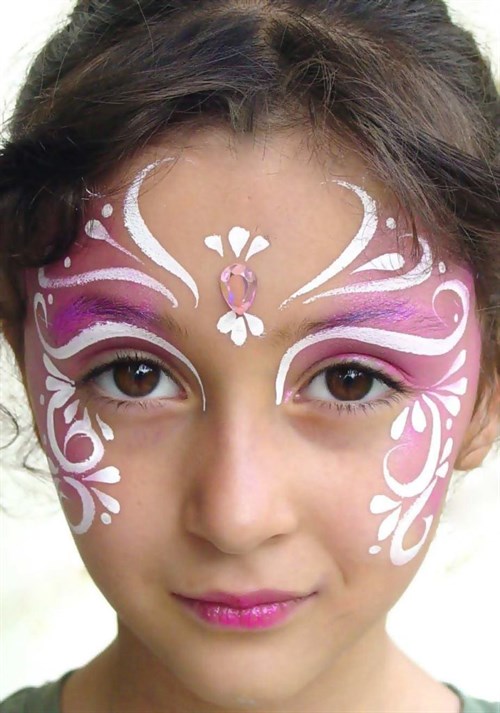 Whatever face painting design your children are after, check out the sitters.co.uk selection. With a huge amount of experience of the small people in your life, we know what they love. So grab a sponge and brush, and get creative as you transform not just a face, but also an imagination. Have fun!
We believe your little ones deserve the very best care. That's why our local network of babysitters are personally checked and picked by our family for your family www.sitters.co.uk.