Introduction
I have a confession to make—I'm an avid bookworm. Whether it's paperback, hardcover, or e-book, you name it, I've devoured it. Recently, my literary adventures led me to a captivating novel: "Did I Mention I Love You?" Today, I'm excited to share my review with you. Fair warning though, there might be a few spoilers along the way. So, without further ado, let's dive in!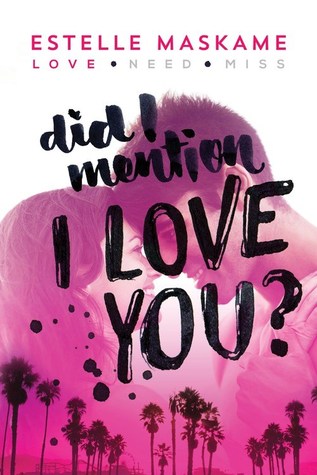 Book Details
Title: Did I Mention I Love You?
Author: Estelle Maskame
Publisher: Sourcebooks Fire
Release Date: December 1, 2015
Pages: 393 (Paperback)
A Tale of Unexpected Love
Imagine heading to California for a summer filled with sunny days, sandy beaches, and glimpses of celebrities. That's exactly what 16-year-old Eden Munro signed up for when she flew across the country to live with her dad and her new stepfamily. Little did she know that this summer would change her life forever.
Getting to Know the Characters
Eden's new family consists of her dad, whom she hasn't seen in three years, her stepmom, and her three stepbrothers. At first, Eden finds solace in the company of her two youngest stepbrothers. However, her plans to spend a long, boring summer take an unexpected turn when 17-year-old Tyler Bruce enters the picture. With his piercing green eyes and an ego that rivals a Beverly Hills mansion, Eden can't help but develop an intense dislike for him. Yet, fate keeps throwing them together, and as they navigate a world of rebellion, parties, and adventures, Eden discovers an undeniable attraction towards the one person she shouldn't fall for.
About the Author
Estelle Maskame, a talented young novelist hailing from Peterhead, Scotland, burst onto the scene with her teenage acclaim online. At the impressive age of seventeen, she secured a print contract with Black & White Publishing in Edinburgh. Since then, she has devoted herself to writing full-time, with "Did I Mention I Love You?" serving as her debut novel.
Reviewing My Journey
When I first glimpsed at the opening pages, I wasn't quite sure what to expect. But boy, was I in for a pleasant surprise! The story quickly picked up pace, captivating me in its web. Dare I say, "Did I Mention I Love You?" might just be one of my favorite reads of 2017.
The Unfolding Story
The narrative begins with Eden's arrival in California, where she quickly forms initial impressions of her stepbrothers. However, it isn't until she encounters Tyler, her 17-year-old stepbrother with an apparent disdain for her, that things truly start to change.
A Perfectly Crafted Relationship
I must commend the author for her impeccable portrayal of the relationship between Tyler and Eden. The sparks between them were palpable right from their visit to the iconic Hollywood sign. Perhaps I picked up on this chemistry sooner than others, but it was undeniably there. Tyler's attempt to assert his dominance when another boy, Jake, tries to court Eden only solidified this connection. Moments like their unexpected confinement in a bathroom or Tyler's heartwarming speeches in the car and school hallway on the Fourth of July made my heart melt. I found myself fervently hoping that these two would not end up apart. And let's not forget the unforgettable bedroom scene that ensued after Eden's drunken state—an absolute delight!
A Refreshing Narrative Style
This book's writing style has rekindled my love for reading. The author's attention to detail in describing various locations, despite not residing in the States, is commendable. Estelle Maskame's meticulous research shines through the pages, making me yearn to be transported to California and soak up the atmosphere she so vividly portrays.
Relatable Characters
As I delved deeper into the story, it became evident that every reader would find themselves connecting with at least one of the characters. There's something relatable about them—be it through personal experiences or shared similarities. Regardless of age, there's a certain charm in this book that transcends demographics. Even if you're older, the entertainment value is undeniable.
A Summery Delight
In conclusion, "Did I Mention I Love You?" receives a resounding 5 out of 5 stars from me. Don't be deterred if the beginning seems a tad slow—I assure you, it gets better! This addictive read warmed my heart, leaving behind a profound message subtly woven throughout its pages. If you're in search of a cute, quick summer read, this is the book for you. I do recommend getting your hands on the entire series before diving in, though. Trust me, you'll be craving the next installment as soon as you finish this one. Remember, a trip to Books-A-Million might be in order!
If you've read "Did I Mention I Love You?" already, I'd love to hear your thoughts. Leave a comment and let's discuss!
Happy Reading!