Here are some popular residential schedules that ensure each parent spends equal time with their child. Feel free to customize these schedules to suit your specific situation. Additionally, utilize a visitation timeshare calculator to accurately determine the amount of time your child spends with each parent.
Alternating Weeks
This schedule involves your child spending one week with each parent alternately.

2 Weeks Each
With this schedule, your child spends two consecutive weeks with each parent.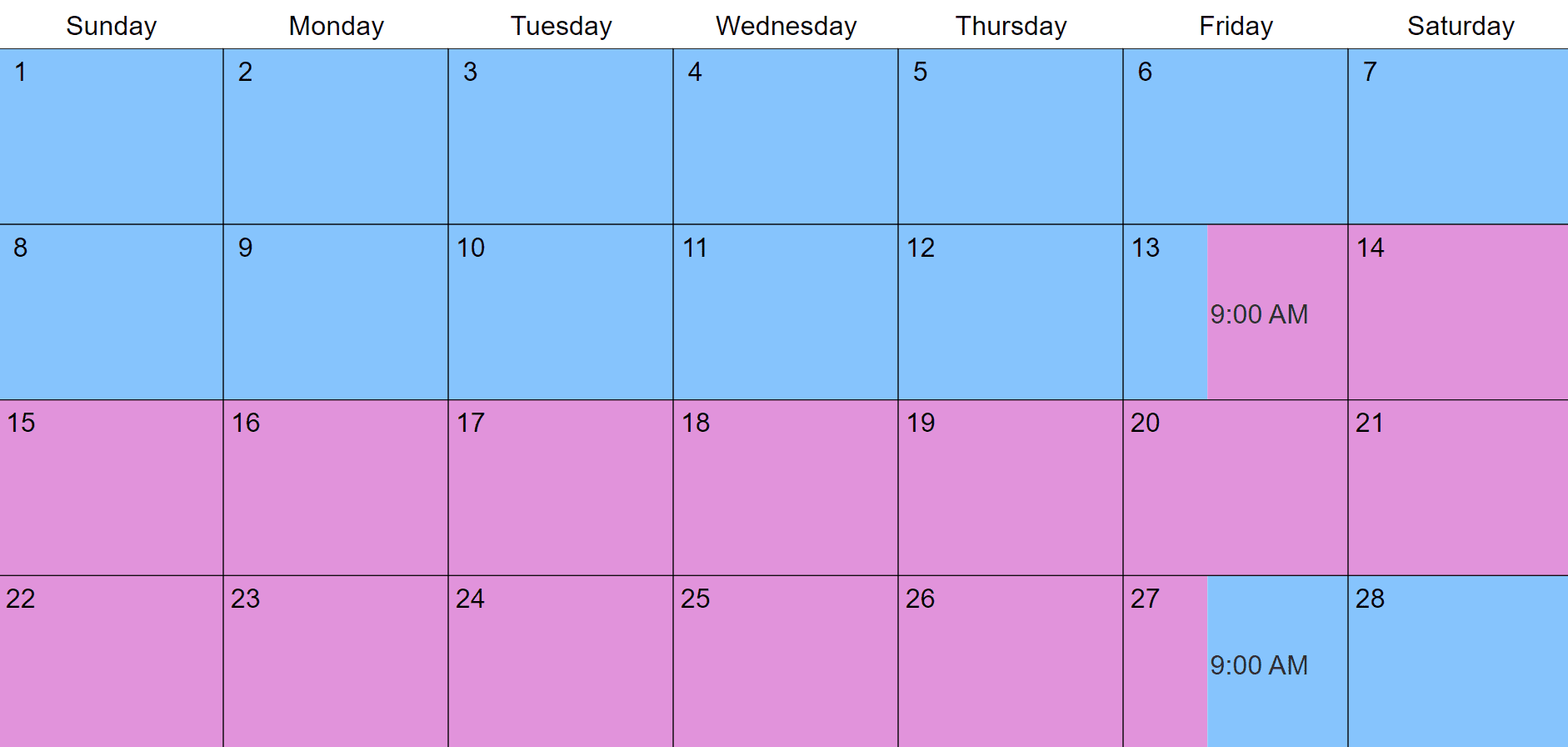 3-4-4-3 Schedule
The 3-4-4-3 schedule involves your child spending three days with one parent, followed by four days with the other parent. The pattern then switches, with the child spending four days with the first parent and three days with the second.

2-2-5-5 Schedule
In this schedule, your child spends two days with each parent and five consecutive days with each parent in rotation.

2-2-3 Schedule
The 2-2-3 schedule entails your child spending two days with one parent, two days with the other parent, and three days with the first parent. This pattern alternates every week.

Alternating Every 2 Days
In this schedule, the child switches between parents every two days.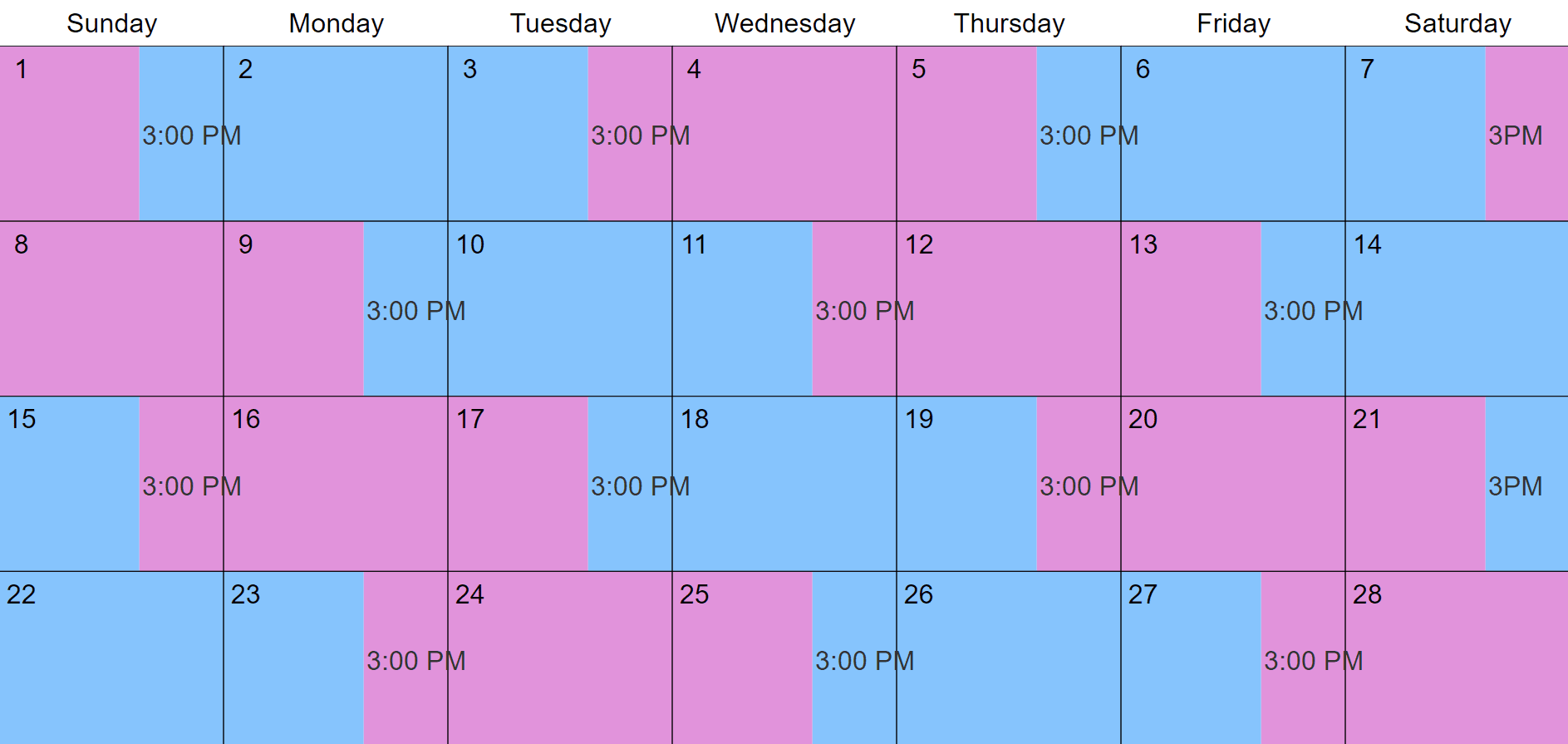 Every Extended Weekend
The every extended weekend schedule typically splits time between parents 60/40, but it becomes a 50/50 schedule if you insert third-party time when your child is at school or daycare.
To make any of these schedules more accurate and reflect quality parenting time, consider inserting third-party time when your child isn't with either parent. You can also modify schedules by adjusting exchange times, adding visits, or dividing up holidays. Use the Custody X Change parenting time calculator to visualize the effects of these adjustments.
Is a 50/50 Schedule Right for You?
When deciding on a schedule, take several factors into consideration to ensure it fulfills your child's physical, social, and emotional needs.
A 50/50 schedule can be beneficial as it allows the child to spend substantial time with both parents, fostering close relationships and a sense of care from both parties. However, a 50/50 schedule is most effective when:
The parents live in close proximity to each other, making exchanges easier.
The parents can communicate without conflict when discussing matters concerning the child.
The child is capable of transitioning between parents' homes.
Both parents prioritize the best interests of the child.
The parents mutually agree that a 50/50 schedule is the most suitable for their child.
In addition to residential schedules, you may want to incorporate holiday or summer break schedules into your parenting time arrangements. These schedules can help balance parenting time when the primary schedule isn't 50/50.
The Simplest Way to Create a 50/50 Schedule
Designing a comprehensive parenting time schedule can be overwhelming. You have to consider holidays, school breaks, equitable time sharing, and future-proofing the arrangement.
Thankfully, the Custody X Change app simplifies the process. Follow the steps provided to create a commonly used custody schedule.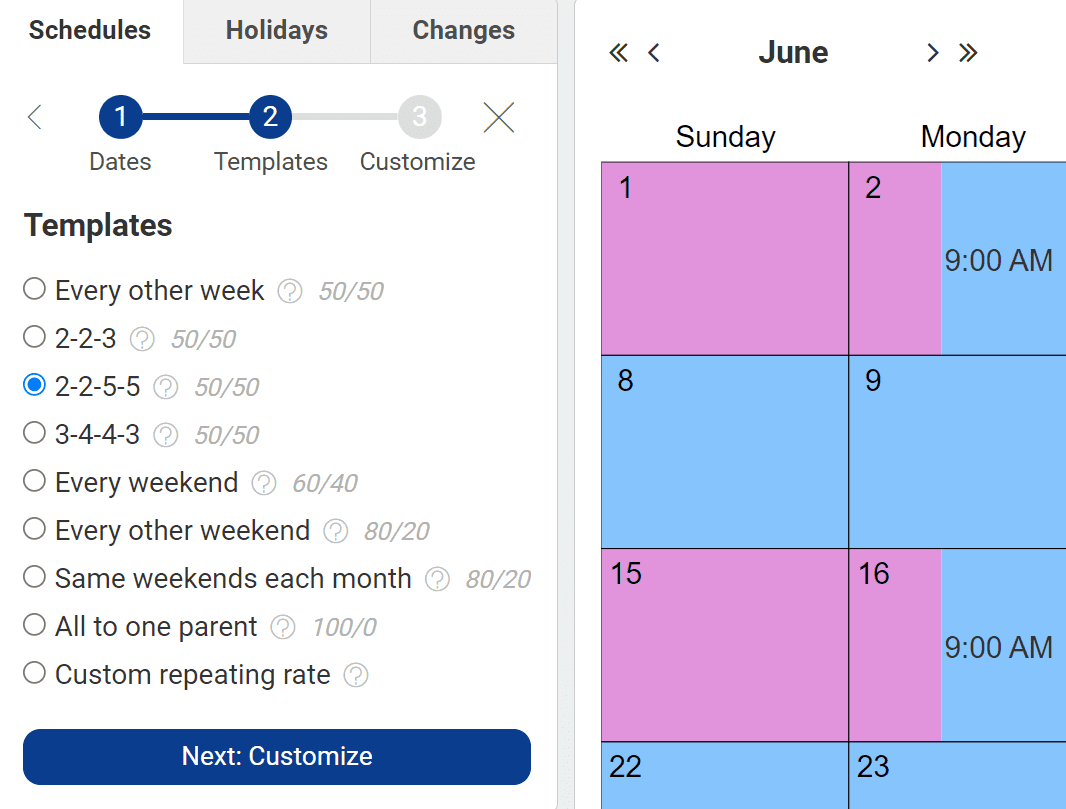 For a quick and affordable custody schedule, rely on Custody X Change. Their platform generates written schedules and visual calendars that cater to your family's needs while adhering to court standards.
To explore more parenting resources, visit Thumbuddy To Love.